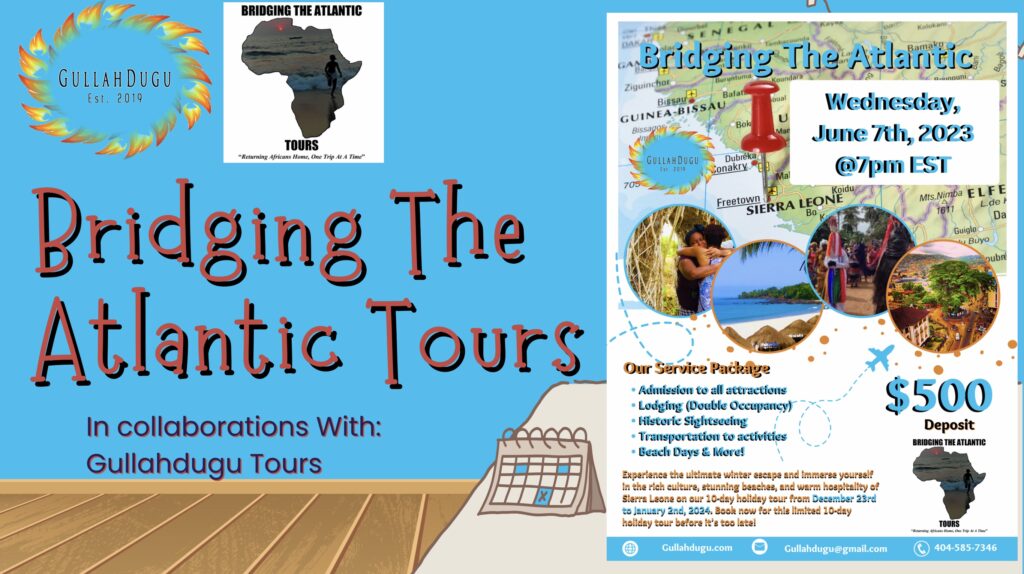 🌍 Explore Sierra Leone Gullahdugu Tours 🌍
Don't miss out on a truly extraordinary opportunity! Join us for a captivating Zoom session on June 7th, 2023 @ 7pm EST, where we will unveil the wonders of our upcoming tour to Sierra Leone, West Africa, scheduled for December 2023.
Step into a world of vibrant culture, breathtaking landscapes, and unforgettable experiences. Our knowledgeable experts will take you on a virtual journey, painting a vivid picture of the awe-inspiring destinations you'll explore and the incredible people you'll meet.
Discover the undiscovered jewels of Sierra Leone, where pristine beaches beckon, lush rainforests whisper tales of ancient civilizations, and warm smiles welcome you at every turn. Immerse yourself in the rich heritage of this remarkable country and celebrate the holiday season like never before.
Whether you're an adventure seeker, a cultural enthusiast, or simply someone with a burning desire to broaden their horizons, this Zoom presentation is not to be missed. Learn about the meticulously curated itinerary, designed to showcase the very best Sierra Leone has to offer. From historical landmarks to thrilling wildlife encounters, we've crafted an experience that will leave you with memories to treasure for a lifetime.
So, why wait? Click the link below to secure your spot for this enlightening Zoom session and embark on an unforgettable journey with Gullahdugu Tours. Let the spirit of Africa capture your heart and soul. Join us in celebrating the holiday season in a truly extraordinary way!
🔗 Click here to register for the Zoom session:
📅 Date: Wednesday, June 7th, 2023
⌚ Time: 7pm EST
Hurry, limited spots available! Reserve yours now and get ready to make your dreams of an African adventure come true. Gullahdugu Tours – Discover. Experience. Celebrate.
Gullahdugu conducted our first independent heritage homecoming in July 2015.
Over the years we have successfully hosted and guided a number of tour's and village homecomings for Gullah Geechee's, DNA traced Sierra Leonean descendants, and African Diaspora descendants.
Since the success of our previous experiences, we have decided to start an investment consultancy and management company, to assist visitors and investors in various ways, from our touring, guiding and hosting services, to investment management, as well as repatriation assistance and development projects.
Book your next tour with us, we promise you'll have the most unique experience imaginable!
Gullahdugu aim is to make everyone's trip with us a once in a lifetime experience.
Mission:
Our fundamental mission is to restore practical, principled and productive relationships between Africans worldwide and take initiative to set a precedence and model that will serve as an example of unity and development to advance and expand on moving forward.
10 day Tour Includes
Hotel Accommodations includes – Double occupancy (single additional fee) Wi-Fi,
*Note WiFi may not be available in rural areas.
Food Accommodations Breakfast provided daily.
Daily Activities & Tours Ground/Boat Transportation in compliance with itinerary
Souvenir
English speaking guide
Not Included:
Roundtrip Airfare – Lungi Airport (airport code FNA)
Sierra Leone Visa – Approximately $160 from a Sierra Leone Embassy or Consulate
Yellow Fever Vaccination – Contact your health insurance provider, or your local Walgreens
Travel Insurance – Travel insurance is recommended but not mandatory. A waiver must be signed if you decline coverage..
Spending Money Please be sure to bring your own cash
Gratuity $100
Contact us: 404-585-7346
Email: Gullahdugu@gmail.com
Subject: Bridging The Atlantic Holiday Tour