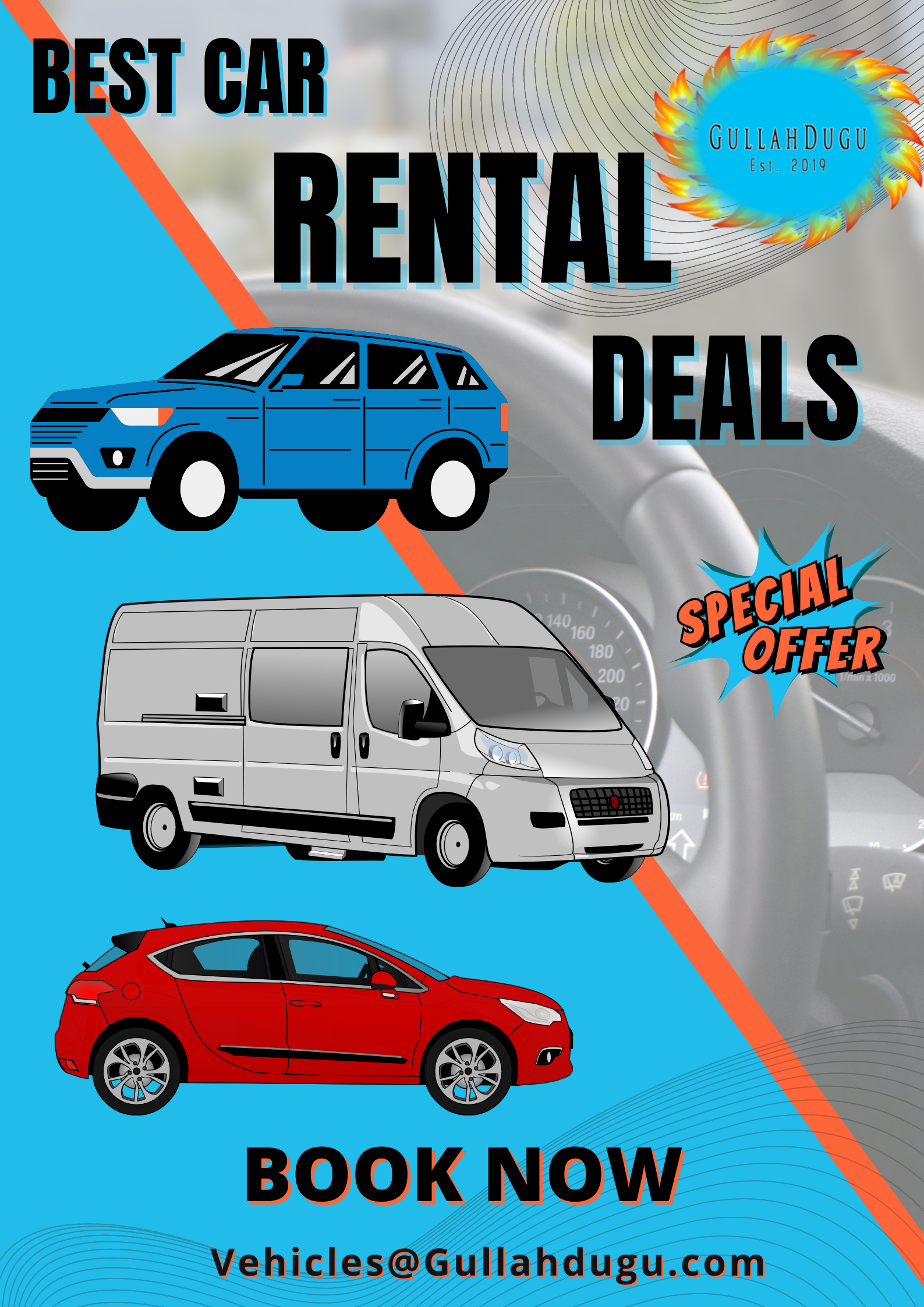 🌴 Explore Sierra Leone and Beyond with Gullahdugu LLC! 🌍
Looking for a reliable and hassle-free car rental service in Sierra Leone? Look no further than Gullahdugu LLC!
We specialize in providing a wide range of vehicles to cater to all your transportation needs, whether you're planning a local adventure in Freetown or an exciting journey through the stunning countryside of Sierra Leone.
🚗 Choose Your Perfect Ride: At Gullahdugu LLC, we offer a diverse fleet of vehicles to suit every traveler's preferences. Whether you're seeking a standard-size car for a solo excursion, a spacious SUV for a family getaway, or a sprinter van for group travel, we have you covered! Our vehicles are well-maintained, comfortable, and equipped with modern amenities to ensure a smooth and enjoyable journey.
🌳 Discover the Beauty of Sierra Leone: Ready to explore beyond Freetown? With Gullahdugu LLC, you can venture into the picturesque landscapes and breathtaking countryside of Sierra Leone. Take in the awe-inspiring views, lush greenery, and vibrant culture as you travel up country. Our knowledgeable drivers will be your trusted guides, ensuring you experience the hidden gems and local attractions along the way.
✨ Unforgettable Adventures: Are you dreaming of crossing borders and embarking on an unforgettable cross-country adventure? Gullahdugu LLC is here to make it happen! Inquire about our daily rates and travel costs for excursions outside Sierra Leone. Discover the wonders of neighboring countries like Guinea and Liberia in West Africa, and let us handle the logistics while you soak up the diverse cultures and natural wonders of the region.
👨‍✈️ Personalized Service: Your comfort and safety are our top priorities. That's why all our vehicles come with a dedicated and professional personal driver. Our experienced drivers are well-trained, friendly, and knowledgeable about the local areas, ensuring a smooth and stress-free journey. Sit back, relax, and enjoy the ride while our drivers take care of the rest.
📞 Contact Us Today: 🇺🇸 +1 404-585-7346
📞 Contact Us Today: 🇸🇱 +23279941810
📧 Email Us Today: Vehicles@Gullahdugu.com
Ready to embark on your next adventure? Don't miss out on the opportunity to explore Sierra Leone and beyond with Gullahdugu LLC. For more information, pricing, and bookings, contact us today! Our friendly team is available to assist you and answer any questions you may have.
🚙 Gullahdugu LLC – Your Gateway to Memorable Travel Experiences! 🌟